I've just humbly been
trying to find a sugar cookie that tastes great
, not even worrying about how they look. Everyday I come across more and more fabulous sugar cookie artists that blow me away. I was that kid who tricked the church leader teaching us how to toll paint into painting my wooden Easter Bunny's eyes. I can't pull off any of the art these people do, but I enjoy looking at it. And Jed humors me by saying stuff like, "Yeah, wow, that's really great" every time I show him some new creation I've wandered across.
Here are just a few to check out:
Lover her Easter bunny cupcakes, and the bunny shaped cookies, and the cupcake cookies!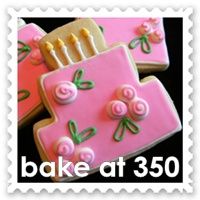 Love her Scrabble tiles, cake, Star Wars, and "You Are Here" cookies among others.
Love her plaid cookies, melted snowman cookies, birdhouse, cherry blossom and donut.
And many, many more UBER creative and talented people who have blogs (and even those without blogs so I just don't know about them).